Who We Are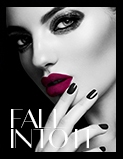 Vintage4her is a unique trending place for partnership. We originate from the word "Vintage" and add a urban edge to keep the recycling affect glowing & growing.
Our current services consist sharing our cosmetic and skin care products to clients whom desire long lasting affects and the ideal texture one would love.
Our brand specializes in high quality products, with an extensive color selection.
We pride ourselves in using only the very highest standards of pigments and ingredients.

Our products are:
• Paraben Free*
• Made in Canada**
• Hypo-Allergenic
• Allergy Tested
• Non-Comedogenic
• Fragrance Free
• Not Tested on Animals
*Except Pencils and Liquid Crystal Adhesive
*Pencils and Mechanical Liners Made in Germany
We have 4 annual color stories with new products being introduced; Spring, Summer, Fall and Holiday collections unlike any other.
-Vintage4Her